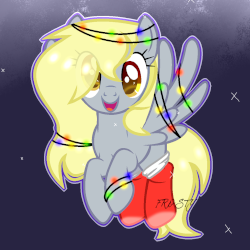 image
Oh my cookies, these past few weeks have been something! I don't know about you, but I am still recovering from all the fun that was had. Crystallic Sombers, also known as CS, hosted its very first server wide event: The 12 days of Christmas.
---
Christmas was a busy time around BronyTales! The "12 days of Hearth's Warming" events hosted a new game for anyone to join in on from the 20th to the 31st ranging from baking competitions, snowman building, scavenger hunts, hide and seek, and even gingerbread house building. To start off, a whole new kitchen and patio was created by Silverstream just for this event and has now become part of the town of CS. Mage, Starswirl, Mina, and Rabia built a giant snow globe next to the arena for sledding and snowball fights. There are rumors that this feature may stay as part of CS, open for all to use.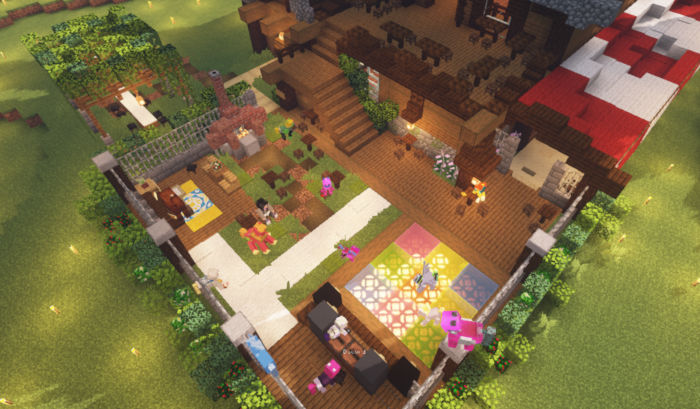 The event started on the 20th of December with a giant party. Cakes, fireworks, and music were shared by all 35 attendants. The following day found 15 people playing Hide-and-Seek in a section of CS. This led to a lot of mad chaos and a lot of fun. Snowman building contests, snowball fights, and gingerbread contests followed as things begin to ramp up. A kitchen show-down kept everyone on their toes and the food that was created went towards the Holiday Feast which fed many.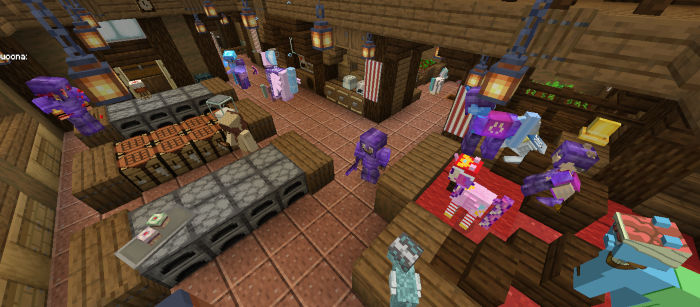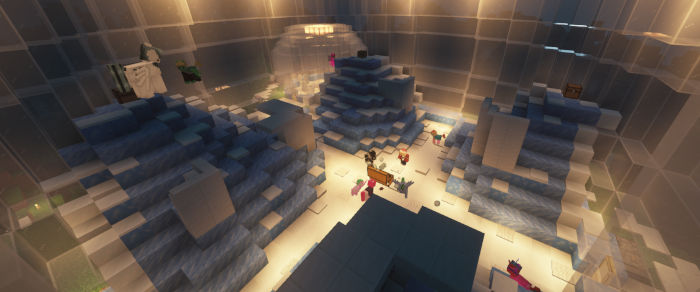 Thanks to a snow day, Derpy hosted an impromptu Snow Day Spleef on the 23rd.. This was an amazing time for players to gather and have fun. So many people showed up and had a great time!

As CS hosted a sledding day, Derpy filled Ponyville with beautiful holiday trees built by Prophet, GrayMane, Silverstream, NightStar, and Derpy, and gifts for all who asked, plus a few more. These gifts were a blessing for many. I think the favorite gift was the Slappy Slap Brick (a brick enchanted with Knockback)! If you missed out last year, don't worry there is a good chance this may come back for 2021. Keep your "ears to the ground" around the end of the year.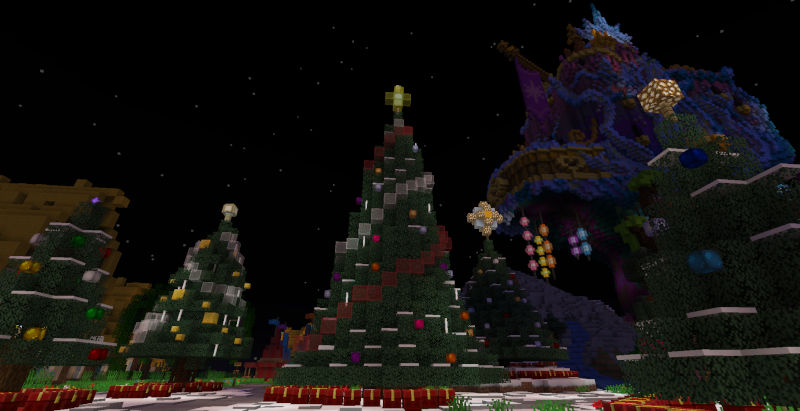 While the sledding was amazing, this was definitely the highlight for many. Some of the gifts were simple, and some of the gifts were really fun!
Two ponies were a little greedy and didn't get what they asked for.
Most everyone who was active during the week before Hearth's Warming got a gift stocking, even if they didn't write a letter to Santa! Derpy worked on filling stockings for nearly ten hours, until 4 in the morning.
The letter that was perhaps the most fun to answer was this one: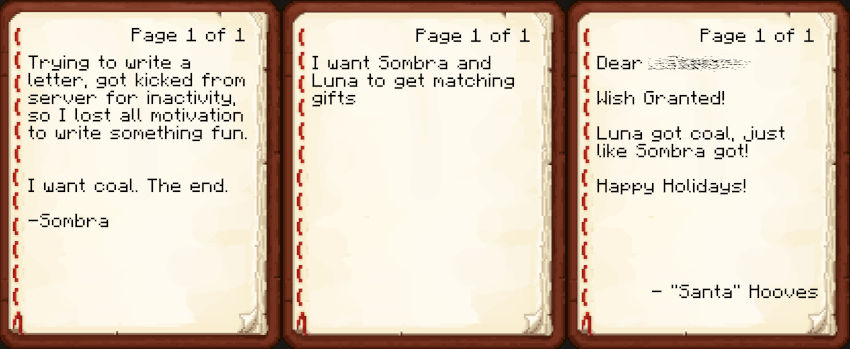 CS rounded the year out with a Jousting Tournament and a beautiful firework show. Players first fought in the Dark Room, the survivors moved on to Round Two: Enchantments and Skill. The survivors were given 10 minutes to mend their weapons between rounds one and two. Round 3 found the final players in a one-on-one PVP tournament with no smithing from the prior round. Out of the eleven people seven moved on to this final round. The winners were Princess Luna, Rebel Appliance and Smolder! The fireworks were custom created by RavenUnderhill just for this event and they were spectacular. Raven is the owner or Raven's store in PV; check her out for all of your firework needs!
The New Year also gave BronyTales (BT) their first roleplay character wedding. A beautiful venue was created in Ponyville and Pinky was the officiant. Congratulations to Cheese Sandwich and Rarity on your recent nuptials! Thank you for allowing us to share in your special day.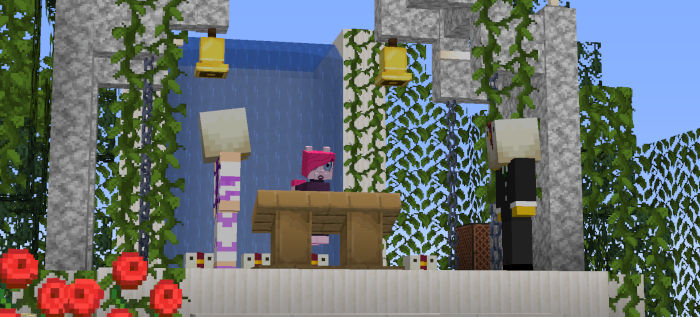 Coming up:
January 15th @ 5pm is the (delayed) BronyTales Hearth's Warming Eve Event! This event will include a Sled Race, Scavenger Hunt and a Spleef! Make sure to check out the #server-events page for more information.
edit: You guys are amazing! That was a ton of fun! I'm sure I didn't catch everyone in this screenshot, but
WOW
there were a lot of ponies online! Thank you to everyone who showed up to play!